So here it is, my dress "axis"! Made of old shirts. And with multiple, subtle cross-stitch axes on checked parts. And a wearable extra spine.
Restricted possibilities
Even when the available resources restrict the possibilities in Upcycling, there are still decisions to make.
First decision
Which shirts from my pile of shirts I shall use?
I chose this five cotton shirts in the colour range of blue, white and a bit of brown.
The rule of three
To help with design decisions, the rule of three is helpful. It says, that more than three main ideas in one garment are somehow too much, and less than three are somehow boring.
So I chose these three for axis:
Shirt dress with patchwork skirt
open edges, fastened with top-stitching
Cross-stitched axes in blue, brown and yellow yarn on all checked pieces of cloth
This approach helped me to drop the additional ideas of ruffles and/or bow tie fastening for the sleeves. Liberating!
And of course the dress has pockets. This is a feature every dress should have. Always!
The final dress
The top of the dress
When I removed the button of the buttoned collar on the right side of the shirt, I cut a little hole into the cloth. To fix this little accident I attached the small stripe lengthwise with open edges.
I removed the stiff collar from the original shirt and made a soft one, again with open edges, out of two shirt collars.
The solution for the sleeves
I cut the cuffs off, topstitched the open edges and made a new button hole.
The patchwork skirt
After cutting and arranging all cloth pieces of the skirt I made three rows.
Then I cross-stitched all the axes and sewed the three rows together, with overlapping open edged top-stitching.
The side pockets
The side pockets are very subtle, built into the dress almost invisible. I like their elegance.
The overlapping open edged hem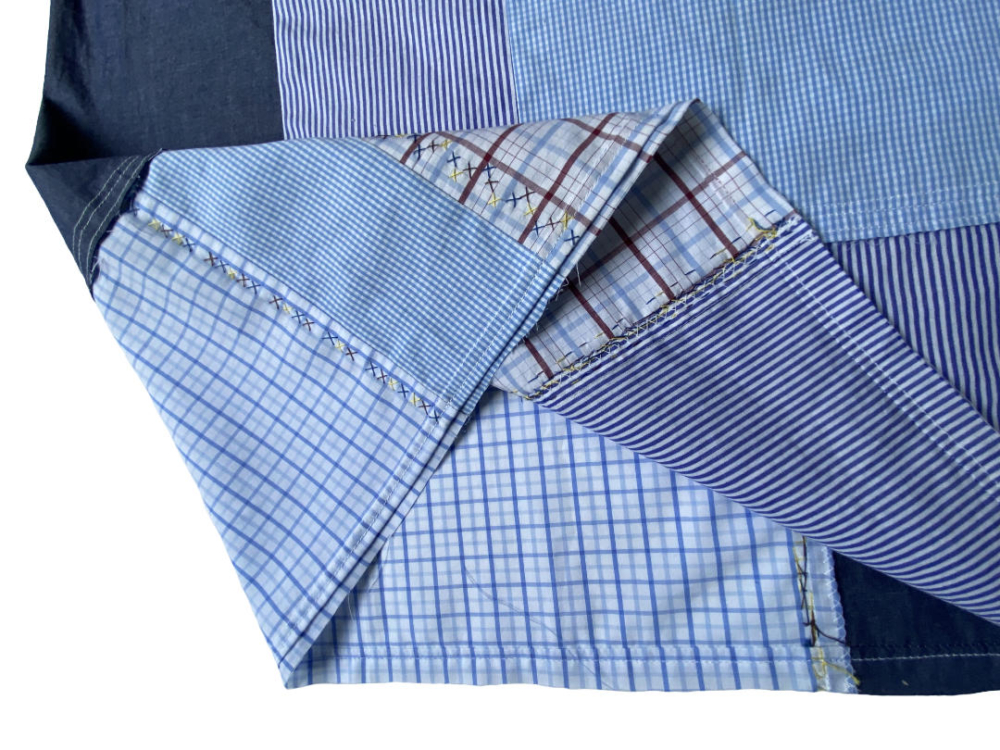 The wearable extra spine
After assembling the patchwork skirt with the top shirt I created the main and most important feature of the dress: A wearable extra spine – nice to have in these times.
The german expression "having backbone" means standing up for one´s values.
Each square represents a vertebra.
1996 I broke my 12th thoracic vertebra in a car accident. Therefore the stitching was an especially emotional process for me, again cherishing the wonder of being healed.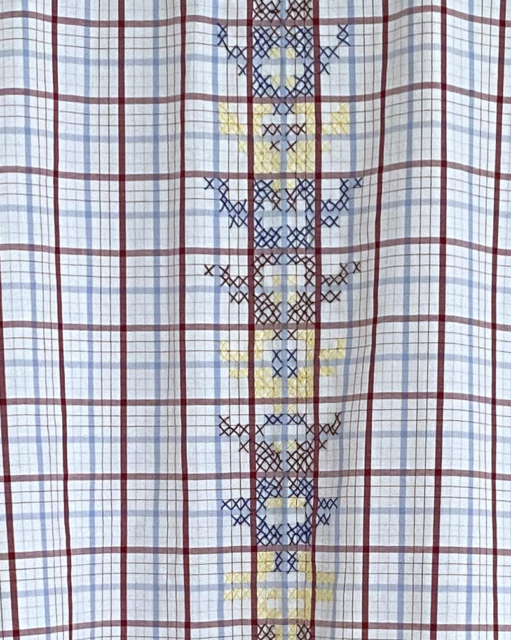 And here are the scribbles for the embroidered spine:
Add on
Making this dress was a long, but super joyous experience. I love this dress, it feels so fresh and crisp.
In addition I made also a scrunchie in this very style.
And I made a playlist shirt from the rest of the navy shirt I used for the dress.