My artist niece is loving dragons, painting dragons, sculpting dragons… When she was younger, I made sweatpants out of jersey with a toothless print as a gift for her. Her mother said, she had to force her to give them into the laundry.
Recently, when tidying my workshop, I found leftovers from that said fabric and created a patch and a scrunchie for her. [BUT: The parcel I sent to my niece, got lost. Isn´t that mean?]
000 – toothless
001 – toothless abstract
This scrunchie (number 000) was the starting point. I made another one for myself.
Then I decided: I will make a scrunchie a day – as long as I enjoy it.
Nice side effects of making one scrunchie a day
If I start a new scrunchie I have to decide, which piece of fabric I will use and which technique or idea I will go for. While searching for potential material in my many boxes and stashes of (originally unsorted or not well sorted) cloths, ribbons and stuff, I started to sort them. And after a while I had a working stash system for remnants etc. installed for me.
But the most important benefit: Because it is such a small thing, I feel totally free to experiment and try out ideas. I am struggling doing this that freely with major projects.
So, here we go!
002 – african sun
is made of Shweshwe fabric from South Africa, a precious gift from a lovely friend <3
003 – recognise
is made up of colorful leftovers.
I created the yellow print "recognise" in the year 2000, when I returned to Vienna after years of travelling Europe with a techno tribe making free parties.
004 – stripes on flowers
is made of a remnant of bedding linen. I have lots of straps of bedding linen, because the industrial size of cushion covers are bigger than my cushions.
The orange linen pieces are little rests from refashioning a jumpsuit.
005 – found shapes in blue
Light blue found shape line of faux suede on a rest of bedding linen. Experimenting with colors and textures.
006 – reflect!
Jeans, reflector cloth, pearls & neon yellow yarn
007 – zoo
Colorful animals on white cotton fabric
008 – indian scribbles
Black elefant scribbles on bright orange viskose combined with black lace
009 – twisted ark
Grey blue linen with neon yellow border with a little twist
010 – xo
Black satin with light blue suede circles
011 – fluffy
Blue & green letters on white with two gauzy ruches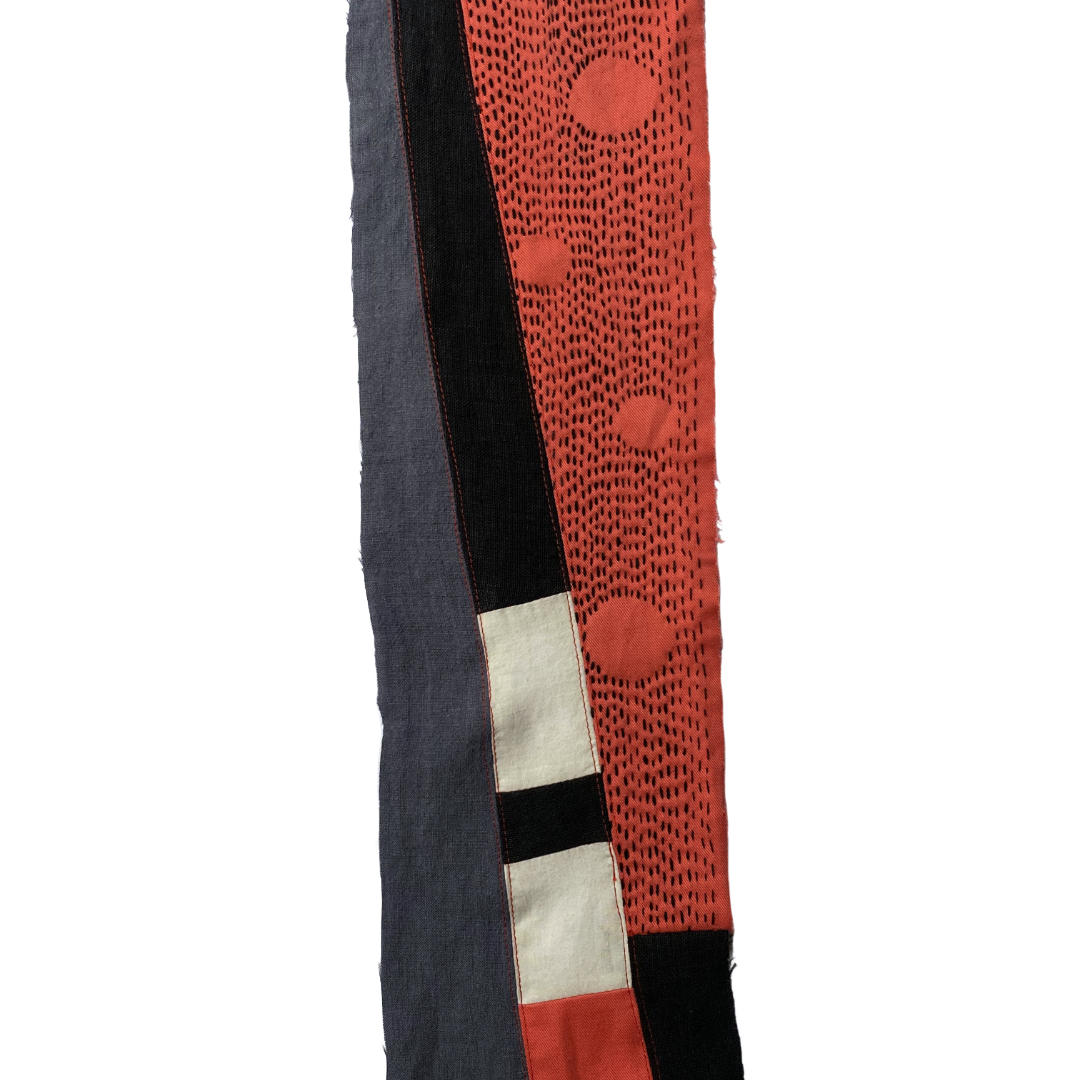 012 – contrastive
black running stitches on orange cotton combined with blue and black linen
013 – rosebed
Matte roses with gold cross stitches made from a flimsy pillowcase
014 – equinox
Embroidered flower scraps on beige viskose
015 – hot pink doodles
Embroidered scribbles on pink coth
scrunchie-016-square-1080
016 – breezy
White ruches on light blue cotton
017 – indigo lines
White & black cotton print with running stitches in indigo dyed vintage yarn
018 – starburst in blue
Aired cordings on blue batik crisp cotton, again from a bedding remnant
019 – snaky
Filled cording in grey lightweight cotton
020 – farrago
Red origami experiment
021 – hodgepodge in orange
Linocut surprise print on white & black cotton
022 – wildflower mead
Yellow linen with crocheted flowers, heart & dot
023 – free from notches
Black/white viscose with stitched orange found shapes
024 – shtick
White stars on rose with yellow, red and rose bow ties
scrunchie-025-2-square-1080
025 – cobra lily
Yellow print on brown cotton jersey leftover
026 – asterisk
White stars on rose bordered with green running stitches
027 – pendulum
Blue cotton batik cloth
028 – on the fringes
Grey with a blue batik border
036 – axis
Checked cloth with cross-stitch border
Here you find more information about axis, my beloved shirt dress in the same style as this scrunchie.
037 – silver glitz
Glamourous shiny scrunchie
038 – pastel terry
Soft terry scrunchie
039 – sunrays on blue sky
Terry scrunchie
040 – pirate
Jersey scrunchie with cute skulls
041 – glitter night
Blue black silvery glitter scrunchie
042 – hoax
Colorful waterproof scrunchie
---
Here you can see the scrunchie wall in full swing during Maker Faire Vienna 23.
---
And then – noncompetitive – there is my crocheted granny scrunchie.