After experimenting with textile work in general in 2022 i will focus now on upcycling textiles.
Nowadays it feels dull for me to produce new stuff made of new resources. There is too much stuff around to be consumed in our hemisphere already. But still: I love to make things, textiles in particular.
Therefore I am planning to use already existing materials to make something "new" out of them.
In the first step i will use up my unworn, mostly preloved clothing and the (meanwhile vintage) cloth i collected 3 decades ago.
And in reality I have already started to upcycle some things in the last year:
Upcycling projects of 2022
Extending
I made a removable extension for my too short pinafore dress, fastened with sew-on snaps.
The idea was to make more extensions in different colors and fabrics over time to have even more options – just with one dress.
Refashioning
After dying these sneakers I wore them nonstop the whole summer.
For the crocheted backpack i used the inner bag of a broken weekender.
This top was too tight. So i made an inset out of a rest of bedding.
Repairing and mending
My beautiful linen jumpsuit got mended with reflective material and satin stitch in colorful yarn.
This cushion cover had stains, that wanted to be covered with a rainbow.
Deconstructing
I created the Enjoy the little things top out of three old T-Shirts (with the pattern from Alabama Chanin).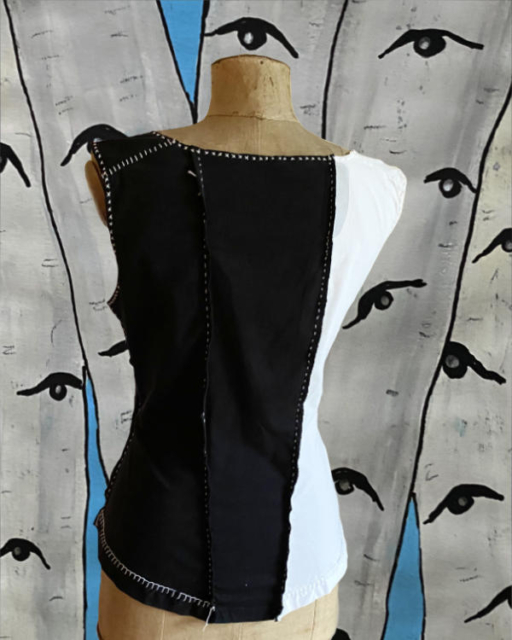 Streetart
These two soft necklaces are made of discarded fabrics: PEACE & JOY
For the little flag for freedom & peace in Ukraine i used a rest of white cloth, which i painted, stitched and crocheted.
Conclusio
I am so excited to dive fully into exploring the wide field of upcycling textiles!