What a journey it was: Maker Faire Vienna 23 was truly magnificent 💫 thanks to its thriving community of makers and the excellent team. Thank you, guys!
The starting point
Let´s create a dress together!
I invited my visitors to create a dress together, on my vintage mannequin. And they really did.
dress 1: The t-shirt dress
At least five visitors were involved in the making of this beautie.
In-between: My first talk ever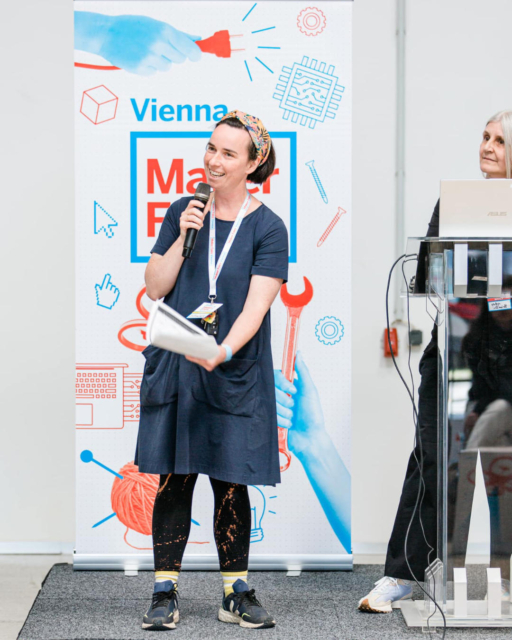 Joanna, one of the amazing organizers is introducing the "Make Fashion last" panel of the talks.
I gave a lightning talk about "Upcycling and Refashioning", showing the possibilities via examples of my work.
Everything went well, though I really was nervous. I could not have found a more kind and well-meaning environment and audience for my first talk.
A gorgeous butterfly
This incredible 10 year old girl came by and sewed a beautiful stuffed butterfly on the sewing machine. She already learned to sew with 9 years from her Grandma. Marvellous.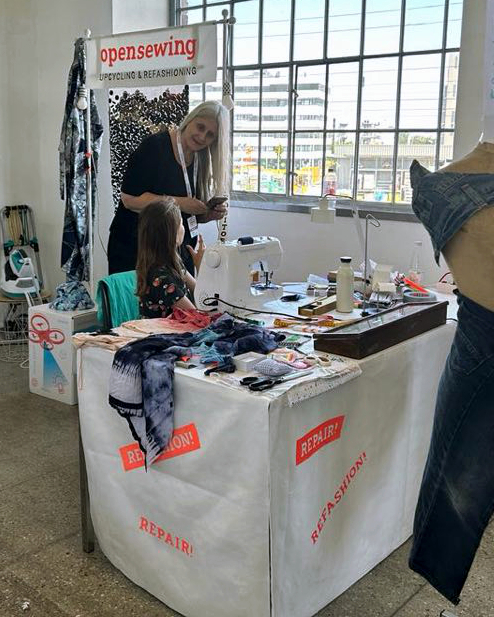 Scrunchies, scrunchies, scrunchies
These scrunchies were my gift for the lovelies, who participated in designing dresses on the mannequin. Yes, plural, dresses! There were three dresses put together collaboratively during the two days of the faire, yippie!
Dress 2: The jeans dress Cosmos
After the design work of 4 grown-ups on the jeans dress these 2 gorgeous girls took matters into their hands and finished the dress in an unbelievable burst of creativity and enthusiasm.
They were working together naturally and efficiently. With an amazing output of good design solutions and ideas. So adorable.
I learned so much from my young visitors. To witness their direct approach of plunging into creating and fearlessly following their guts, was a heart-opening experience for me. Thanks, girls <3
Here is the result
And besides I got so much love!
Read more about the manufacturing process of Cosmos.
Dress 3: The colorful dress Melyna
And then came Meli and created this colorful dress! Lynn and Nina joined in and the third dress, the colourful one appeared out of imagination:
I
Interesting people, interesting conversations
And of course I had many interesting chats with lovely humans of all ages and many backgrounds. I really love the openness, playfulness and kindness of this bunch of people coming together at Metastadt.
I did not have time to walk around and make pics of all the amazing booths and things happening. Except this one:
Rooming Inn
is an amazing initiative for boosting arts in public spaces and had a great booth.
The question was: Where would you like to have more art? And there came a lot of responses as you can see.
---
I am so grateful and proud to be a part of this strong vivid community. Thank you for each and everyone, who visited me and my booth!
You can find a lot of images about the event generally on the facebook page and the instagram page of Maker Faire Vienna to get an idea of the whole spectacle. Believe me, it is worth it!