I found a few old curtains in my stash and as i do not use curtains in my current flat, i remembered that a friend once showed me her cute bag made out of transparent curtain fabric.
So i decided i need a new tote bag – or two.
Tote bag "JOY"
As you can never have too much joy in your life, i decided i will work again with the word JOY.
I basted the JOY letters (faux suede) on the cloth and sew it on with the sewing machine:
Creating is about making choices, even about the basic things. For example: I was thinking about the thread color i wanted to use to stitch the velour letters onto the bag. First i chose orange, yellow and light blue thread. BUT: After i made a test-sewing in orange, i felt: No. I wanted something simpler – and suddenly there was neon yellow in my mind. Test and bingo: Though it is very subtle i like it.
Here is a scribble with the pattern of the totebag (in centimetres):
If you want to read more about joy, i also made this textile necklace "enJOY".
See also on my instagram page.
Knotted tote bag
There was this old stained tote bag with a cute print. My idea was to cover it with a net tote bag so that the stains will not be visible anymore.
Here you can see the technique i used, i made simple knots crosswise: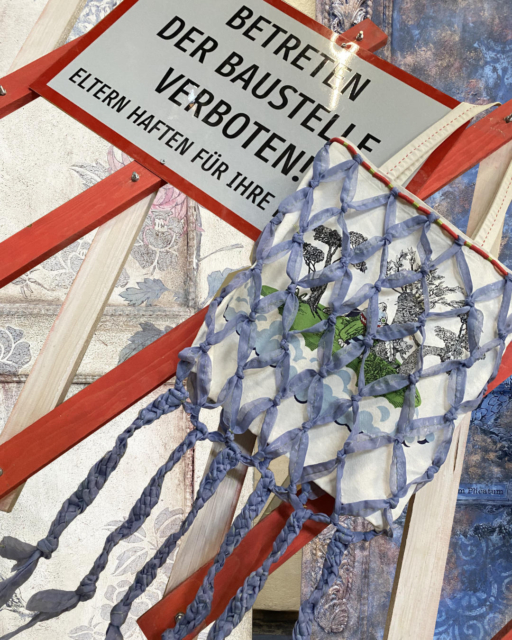 Details of the strap and the back closing of the bag, i attached the red string with green yarn:
Though the curtain is made of synthetic fiber, i think it is better to use it as long as possible and keep it out of the landfill. What do you think?